Below is a course roster for:
Instructor: Paul Owens
WEBX-0100-F2F WebEx - Meeting Center Basics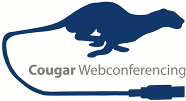 Cougar Webconferencing is a virtual online meeting room which allows Columbus State employees to hold meetings online. Cougar Webconferencing requires participants to have internet access and a computer with a microphone and audio capabilities. All communication is done through the computer, whether a desktop pc or latptop. Cougar Webconferencing allows for multiple participants, up to 200, at different locations to connect online and share any document, power point, web site, or other multimedia. Although Cougar Webconferencing has video capabilities, the focus generally is with sharing data and information with participants.
This session will cover the following topics:
How to login to the Cougar Webconferencing system
Review the Cougar Webconferencing meeting area layout
How to setup and start a meeting
How to use basic meeting tools effectively
How to load content into a meeting
How to record a meeting
Where to learn even more about the Cougar Webconferencing system

Date: 2/28/2013
Time: 9:00 AM
---
Renee Deveaux, rdeveaux@cscc.edu